Kid-Friendly Recipes for Mother's Day
When the kids hit the kitchen, it's all about fun: Having fun cooking and making fun treats! Here are a few ideas sure to put a smile on everyone's face. Just make sure all the fixin's are purchased in advance of Mother's Day, so you can avoid a last minute scramble and focus on the fun.
And by the way, it's probably a very good idea for a grown-up or older sibling to supervise. :)
---
Happy Face Pancakes
Imagine the smile on Mom's face when she sees a happy face pancake looking up at her from the breakfast table!
Ingredients
1 egg
1 cup all-purpose flour
3/4 cup milk
1 tablespoon sugar
2 tablespoons vegetable oil (we prefer canola oil)
3 teaspoons baking powder
1/2 teaspoon salt
Butter or margarine
Gummi Bears or similar candy (for the eyebrows)
Dried apricots (for the eyes)
Fresh blueberries or M&M's (for the pupils of the eyes)
Fresh strawberries, cleaned and topped (for the nose)
Whipped cream (for the mouth)
Candy sprinkles (for the teeth)
Preparation
Beat egg until fluffy.
Beat in remaining ingredients just until smooth.
Grease griddle with butter or margarine.
Pour about 4 tablespoons batter onto griddle for each large pancake, and about 1 teaspoon of batter for each ear.
Cook each pancake until puffed up and dry around edges.
Turn and cook other side until golden brown. Remove from griddle.
Place a large pancake in the center of a plate.
Add small pancakes for the ears.
Make the eyebrows with Gummi Bears.
Make the eyes with apricots. Add blueberries or M&M's for the pupils.
Add a whole strawberry, upside down, for the nose.
Form whipped cream into a smiling mouth.
Add sprinkles on top of the whipped cream for teeth.
Makes approximately 8 very happy pancakes.
Note: Worried about making from scratch? No worries, just use a store-bought pancake mix, and add the fresh blueberries to the batter before placing on the griddle.
---
Scrumptious Strawberry Shortcake
Who doesn't love strawberry desserts? And this one couldn't be easier. Shortcakes (or pound cake if you prefer) are the basis for this delightful dessert. Both kinds of cake are easy to find in the stores, so the kids don't have to do any baking for this dish.
Ingredients
Store bought shortcakes or pound cake
Clear glass bowls or martini glasses
4 tablespoons sugar
1 carton fresh strawberries, cleaned and topped (may add fresh blueberries too, if desired)
Optional: Strawberry ice cream topping
Cool Whip or other whipped cream of your choice
Preparation
Place one shortcake or one slice of pound cake in bowl or martini glass. Repeat for each person to be served.
Combine strawberries and sugar in a bowl. Gently mix until strawberries are coated with sugar.
Add strawberries to the shortcake or pound cake.
Optional: Drizzle a small amount of strawberry ice cream topping over the shortcake before adding the whipped cream.
Add whipped cream and serve.
---
DIY Banana Splits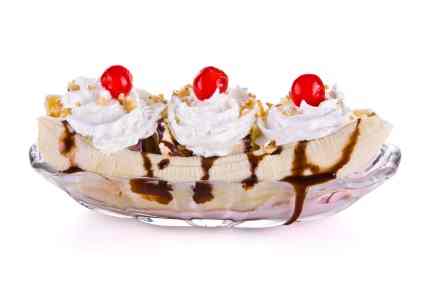 The great thing about banana splits is that they are almost as fun to make as they are delicious to eat. And with banana splits, you can make them all the same, or take orders to customize each one to individual tastes.
Ingredients
1 banana for each split
Vanilla, strawberry and chocolate ice cream
Chocolate, strawberry and caramel ice cream topping
Nuts of your choosing
Colorful candy sprinkles
Preparation
Peel and split a banana the long way.
Place the split banana halves on opposite sides of a lengthwise dish.
Add three scoops of any flavor ice cream between the bananas.
Add one, two or all three toppings - whatever you like!
Add nuts if you like (make sure nobody has nut allergies!).
Add sprinkles.
Dig in!