Fun Activities for Mother's Day
Mom might tell you that being loved by her family is all she could ask for on Mother's Day. Good to know Mom's consistent!
But the fact remains, this is the one day of the year to celebrate Mom officially, so let's make sure that this is an enjoyable and memorable occasion for Mom!
One option: Surprise Mom with special activities based on her interests. We've organized some activity ideas into two groups below: Outings & Trips and Fun at Home.
Outings & Trips
Plan the Perfect Picnic
Imagine, a wild flower meadow, bright blue sky and a warm sunny afternoon. A family picnic may be just what Mom needs.
How to Plan the Perfect Mother's Day Picnic
Mother's Day Brunch or Dinner
Mother's Day brunches are very popular. Find restaurants in your area that offer a Mother's Day brunch. Make reservations well in advance. Another thoughtful option is to take Mom out for a nice dinner in honor of Mother's Day.
Tips for a Nice Brunch or Dinner Out on Mothers Day
Schedule a Day-Trip
Drive to a unique and creative destination with the whole family. That might be to a beach or hiking area, or a nearby city. Alternatively, Dad could plan ways to add a touch of romance to the getaway, for example, showing the kids where he proposed to Mom.
Read More About Planning a Day Trip
Opt for a Weekend Getaway
A mud bath at a spa, a wine country getaway, camping, hiking, kayaking or visiting the city, taking the weekend to celebrate Mother's Day can be a relaxing, soothing—even invigorating change of pace.
Explore Your Options for a Weekend Getaway for Mom
Splurge on a Special Experience!
Brunch on a boat? Hot air balloon ride? Sailing for a day? Spa adventures? Skydiving? Yeah, Xperience Days can set that up for you and Mom! And they now operate in most major U.S. cities.
Fun at Home
Games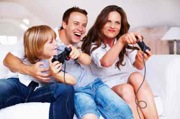 Unite the whole family with a fun game or active and challenging pursuit on Mother's Day.
Gather around a lively board game, pair up on the tennis court or shout out the clues to her favorite crossword puzzle.
Board Games and Outdoor Fun with Mom
Crafts for Kids to Make
A great way to keep the kids happy on Mothers Day is to keep them busy making something for Mom. Check out our list of 151 fabulous craft ideas.
Craft Ideas for Kids to Make
Mother's Day Clip Art
Put clip art on a Web site or blog to surprise Mom, or print it out and have fun with it!
Mothers Day Clipart
Printable Cards and Coupons
Print out one of these colorful and cheery cards brighten Mom's day.
Free Printable Mothers Day Cards
Free Printable Mothers Day Gift Coupons