Unique Gifts for Mom
One of the most frequent requests we hear is "...more unique gift ideas for Mom." Not silly stuff - our visitors want really cool, really interesting gifts that Mom can truly enjoy.
So, our team has put together what we believe is a truly outstanding variety of compelling, out-of the ordinary gifts to delight Mom this year.
These kitchen aprons are one of the most fun and useful Mother's day gift ideas we've seen in a while.
If Mom is cooking, there's no reason she can't do it in style! From FlirtyAprons.com
Keep Mom Safe from Viruses, Spyware and ID Theft!
AVTest recently rated Bitdefender highest in overall PC protection, beating Kaspersky, Symantc, Panda and McAfee.
Get Mom the protection she needs: a 24/7 5 Year Protection Plan, from Bitdefender!
If Mom is a nature lover, get her a bird feeder.
Bird feeders are an absolutely delightful way to set Mom's garden singing, and she'll thank you for it!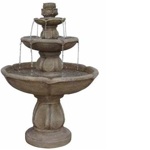 If Mom has the kind of backyard with some space, but that seems to be missing something, consider a water fountain. Soothing, elegant, timeless ... it's a gift that will give Mom years of pleasure.
Hot air balloon ride? Sailing for a day? Spa adventures? Skydiving? Brunch on a boat? Yeah, these guys can do all that! For the adventurous Mom.
Check out Xperience Days
Adopt a Pet lets you see all of the cute little doggies and kitties available for adoption in your local area. It's simple, it's fast and you save a life while making Mom happy!
Autographed editions of fine books are the sort of once-in-a-lifetime gift that you only give once and only get once! But, for a book loving mom with a family member who can afford it, this might be just the thing.
Warning: These are ultra expensive!