Mother's Day Poems for Wives
For my Wife, the Super Mom...
"Dad needs to show an incredible amount of
respect and humor and friendship toward his mate
so the kids understand their parents are sexy, they're fun,
they do things together, they're best friends.
Kids learn by example. If I respect Mom, they're going to respect Mom."
- Tim Allen

76. In All Honor - Alfred Lord Tennyson
A refreshing classic for the woman you can't help but adore.
Every man, for the sake of the great blessed Mother in Heaven, and for the love of his own little mother on earth, should handle all womankind gently, and hold them in all Honor.



77. Mother of My Loved One, Hear My Love - Nicholas Gordon
Place your wife on the pedestal she has earned this Mother's day.
Mother of my loved one, hear my love
On this, a day when such sweet words are due.
Take to heart the heartfelt praise that you
Have long bestowed but wanted little of.
Read More...



78. Happy mother's day, to my wife - Karl Fuchs
When you love every delight she brings you, and you just gotta tell her.
On Mother's day, I want to wish
Happy Mother's Day to my wonderful wife;
My friend, my love, a terrific mom,
You bring so much happiness into my life.
Read More...



79. A Busy Woman Dreams - Katherine Edelman
Perfect for that "Mom's Day Off" surprise!
With a careless air,

I will be gone for the day!
I shall put on my blue gown,

And in leisured way

Go to town.

At the newly opened shop
Where they keep such lovely things,
Choose from some intriguing place
A richly colored robe,
Or some fine old lace;
Then, I shall browse

In the bookstand nearby,
Selecting some new book...
All waiting tasks upon the shelf
And spend one easy, carefree day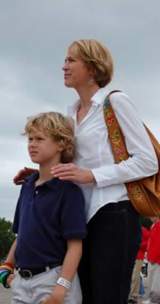 80. Happy Mother's Day - Jim Milks
Great for the marriage with plenty of fire and passion.
Happy Mother's Day
to my dear wife.
Wonderful was the day
you entered my life
Happy Mother's Day
to my daughter's mother
for she is my friend and my lover.
Read More...



81. To My Wife, on Mother's Day - Nicholas Gordon
She'll think you're a genius with this clever token of affection.
To my wife on Mother's Day,
Our habitude and light:
May you be as happy as
You make us with your love.
Read More...



82. The Princess - Alfred Lord Tennyson
Woo the olde English loving wife and mother with this classic poem.
I loved her, one
Not learned, save in gracious household ways,
Nor perfect, nay, but full of tender wants,
No Angel instincts, breathing Paradise,
Interpreter between the gods and men,
Who look'd all native to her place, and yet
On tiptoe seem'd to touch upon a sphere
Too gross to tread,
and all male minds perforce
Sway's to her from their orbits
as they moved,
And girdled her with music. Happy he
With such a mother! faith in womenkind
Beats with his blood,
and trust in all things high
Comes easy to him, and tho' he trip and fall,
He shall not blind his soul with clay.



83. My Wife - Andre' Cardenas
When your wife can be nothing other than a blessing from God.
Hand in hand we walk together,
God's grace warms us from above.
It's him I thank each day I wake
for blessing me with all your love.
The sunshine in my morning
and the bird that sings my song.
In this life when I am troubled through God it's you who keeps me strong.
The wind beneath my wings
as this eagle takes to flight.
You are the stars that brighten up my sky in the darkness of the night.
The mother of my children and the air that gives me life.
My truest friend of all...
my heart, my soul, my wife.



84. My, How Your Life Has Been Taken Over - Nicholas Gordon
Quite the crafty way to let her know you see how hard she works.
My, how your life has been taken over!
Oceans have flooded your once urbane hours,
Testing with tumult the limits of joy.
How restlessly rapt your ubiquitous rover,
Eagerly poised on the brink of her powers,
Reaching for all a quick mind might employ!
Read More...